Stator for Polaris Sportsman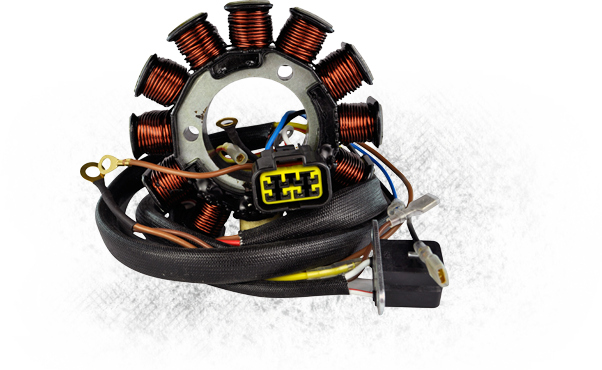 If you own an A.C. powered electrical system Polaris ATV, things are looking up for you if the system has failed! In the past, this was a very costly repair. Replacing the whole stator requires partial engine disassembly. This is quite a task for the home mechanic, so, your ATV most likely ended up in a repair shop or at a dealership.
If you are a mechanic, it's still a chore to repair this stator problem. The OEM parts, plus the oil, gaskets etc. will still run a parts bill in the 700 dollars range and take between 4 and 6 hours for a competent home mechanic. If you are not mechanically inclined, well, you're in for over 1000$ depending on the year and model of your Polaris ATV.
Ok, a thousand dollar repair on a 10 year old machine? Hummm. No wonder people get rid of them. The thing is, those ATVs in the majority of cases are mechanically sound. They have a lot of years left in them.
These issues covered a broad range of Polaris ATVs. Starting with the 1992 Polaris 400L right up to the 2006 Sportsman 700. That is quite a large selection and Polaris has sold hundreds of thousands.
We have seen quite a few owners that simply gave up sold them or traded them in taking a huge loss on a non-functional machine.
If you own one of these ATVs then this website is for you!
One of our neighbor's ATV is a prime example. He owns a 2005 Polaris Sportsman 700 with 1500 miles on the odometer. Nearly showroom clean, it's dealer serviced every year and it spent most of its time in a heated and air conditioned garage. His Sportsman 700 is in perfect mechanical order with barely a scuff or scrape.
This is where things get interesting. He asked us after receiving the repair estimate from the dealer if we had a solution. We started looking online for a solution in the aftermarket. Found some stators that were cheaper and would save him a couple hundred dollars. During our research we stumbled upon a YouTube video of a journalist who was repairing a 2004 Sportsman 600 with the exact same problem.
That video featured a solution from the Canadian company RMSTATOR. Consisting of a CDI box, a new ignition coil and a wire harness with connectors. This kit replaces the defective stator modules and turn the AC powered system into a more reliable DC system. Just about anyone can install these kits within 20 to 30 minutes!
Stators for Polaris for sale at RMSTATOR
STATOR FOR POLARIS
AVAILABLE MODELS

Here are the stator / ignitions for Polaris models that can be "cured" on the cheap with these little black boxes:
Sportsman 600 Carb 2003-2005
Sportsman 700 Carb 2002-2006
Sportsman MV7 Carb 2005

Big Boss 500 6x6 1998-2000
Magnum 425 1995-1999
Magnum 500 1999-2000
Ranger 425 2003
Ranger 500 6x6 1999
Ranger 500 2003-2004
Scrambler 400 2000
Scrambler 500 4x4 1998-2000
Sportsman 335 1999-2000
Sportsman 400 2001-2002
Sportsman 500 1996-2002
Worker 335 1999
Worker 500 2000
Xpedition 425 2000-2002
Xplorer 500 1997

400L 1994
Big Boss 400L 6x6 1995-1997
Sport 400L 1995
Sportsman 400 1994-1996
Xplorer 400 1995-1996 Xplorer 400 1998